---
Partners commit to deepening dialogue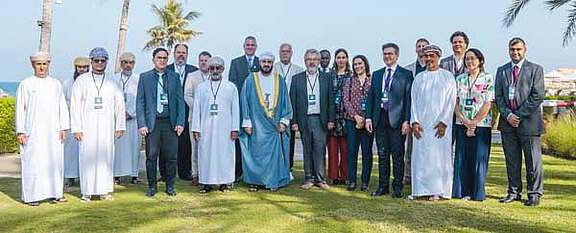 A strong call for deepening dialogue with action was made following an important global conference and workshop to coincide with the United Nation's International Day for Tolerance.
The Ministry of Endowments and Religious Affairs in the Sultanate of Oman in cooperation with Baraza committed themselves to advancing their partnership for peace. The events which were titled "Deepening Dialogue", ran on 14th and 15th November at the Bandar al Jissa Resort in Muscat, Oman.
The context of the symposium was Oman's flagship exhibition 'Tolerance, Understanding, Coexistence - Oman's Message of Islam' which toured the world for a decade from April 2010. The discussions which took place this time involved the construction of ideas and schemes to advance to the next stage in an increasingly polarised world. Through its network, Baraza gathered 15 global experts who contributed effectively by generating a series of education, cultural and community project proposals to consider.
► read more about the conference
---
Memorandum of Understanding between Baraza and EDARA signed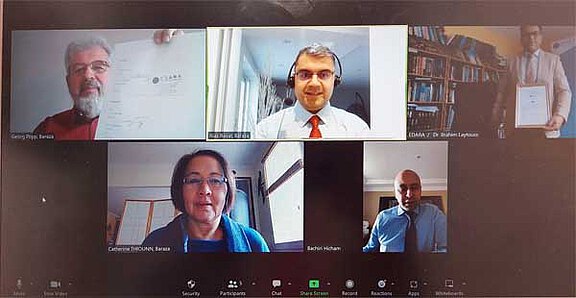 On Friday 3rd March 2023, a pioneering international partnership for promoting peaceful efforts and understanding was agreed between two not-for profit organisations.
An online meeting took place to agree the signing of a Memorandum of Understanding (MOU) and collaboration agreement between Baraza and the EDARA (European Development And Research Agency).
EDARA (European Development And Research Agency) is an EU independent, research centre and think-tank founded in 2012 and based Brussels, Belgium. EDARA runs conferences, training and produces high quality reports to improve policy and decision-making at global level.
The agreement was signed by Georg Popp, President of Baraza and Dr. Brahim Laytouss, General Director of EDARA. The MOU calls for joint working in areas of common interest such as peace, security, integration, intercultural and interfaith understanding. This may include running mutually beneficial projects and events to promote organisational aims. The MOU is committed to the principles of universal human rights underpinned by respect, equality and non-discrimination.
Georg Popp, President of Baraza said, "This new collaboration builds on the good foundations of Baraza's relationship with EDARA. We were delighted that EDARA contributed to our important Tolerance conference in November 2022 and now we intend to enhance this much further through this landmark arrangement. We very much look forward to working together to make a positive difference in our shared goals of promoting international peace and understanding."
Dr. Brahim Laytouss, General Director of EDARA added, "This groundbreaking connection between EDARA and Baraza enables us to share talent and energy for future ventures. The networking and knowledge base each partner possesses is invaluable and mutually rewarding. Over the coming period we intend to make active contributions to peace building and intercultural understanding".
The strategic document enables Baraza and EDARA to create new opportunities by broadening organisational geographic boundaries and expertise. Both Baraza and EDARA thank Revd Chris Vonck for the role he played in introducing the partnership.
---
---
"council" or "meeting place" in Swahili. A baraza can be an informal meeting or an official council. In spatial terms it is a place where people meet to chat, exchange ideas, and solve problems.
an independent, non-profit organization, founded by the same team which is responsible for the concept, realization and implementation of the international touring exhibition "Tolerance, Understanding, Coexistence."
an international platform to promote dialogue and understanding between people. In cooperation with international experts, we develop ideas and projects and look for potential sponsors.
---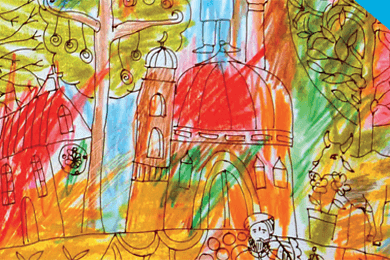 Have fun learning about the world's major religions with creative designs and simple challanges! For kids age 5+

Currently available in 6 editions (4 different languages each) and 16 languages:
English, French, German, Spanish, Italian, Russian, Bulgarian, Romanian, Macedonian, Bosnian, Albanian, Arabic, Chinese, Indonesian, Malay, Kiswahili

➤ Colouring Book for Kids - "World Religions"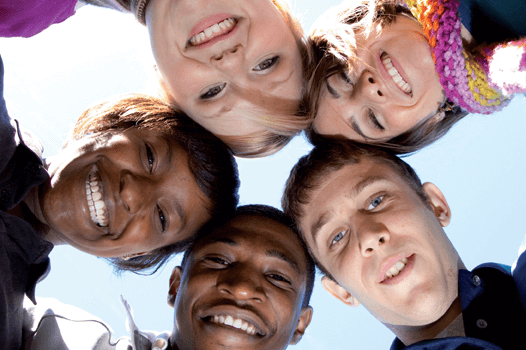 UNITY is an exciting and inspiring life skills programme for young people. UNITY will build self confidence and provide an encounter-based learning environment which will create citizens who are open-minded, skilled and resilient to face some of society's challenges. Topics covered include critical thinking, values and democracy. It is a scheme which will equip young people for life.

SABEL Schulen Munchen is hosting the first
►UNITY programme.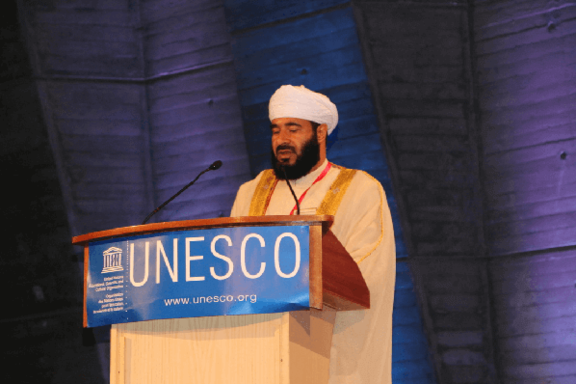 BARAZA is producing a series of case studies which showcase thoughts, actions, and initiatives undertaken by persons, institutions, municipalities or nations encouraging mutual understanding and acceptance. Each compendium contains essays, previously published articles, speeches, and descriptions of projects which present positive and effective examples with articles authored or contributed by BARAZA's Advisors and Associates.
► Download pdf: Towards United Values - Case Study Oman
---
Memberships and Partnerships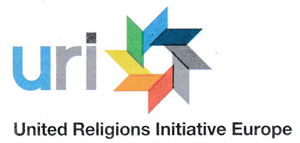 ---
We wish to promote peaceful thinking, tolerance in all areas of culture, religion and understanding among nations. The Baraza family of members, advisors and volunteers come from different countries and many walks of life.
BARAZA's international team provides a global platform for transcultural and interfaith dialogue.
We believe in ideals of Acceptance, Understanding, and Coexistence. Supported by our network of knowledgeable experts, we invest in education, we create real-world encounters, and we build thriving partnerships.
Through education and encounter-based projects, a future where actions are rooted in common human values.
---
Top