MUNICH EXCHANGE VISIT PLANS GATHER PACE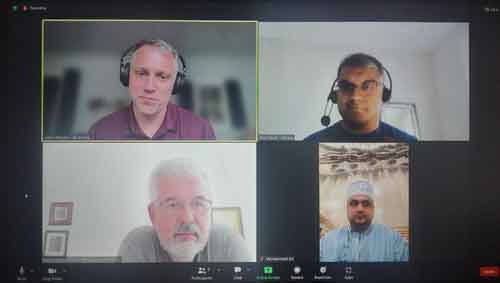 In August 2023, Baraza and Al Amana Centre finalised plans for the upcoming exchange visit to Munich, Germany.
As part of the 'Tandem for Tolerance' project which falls under the umbrella of the CCP (Cross Culture Programme) Synergy Fund administered by the Institut für Auslandsbeziehungen (IFA), the partners met online to determine the content of the visit.
Baraza will welcome Al Amana Centre colleagues to Munich for a few days where they will visit the Dachau concentration camp, meet faith leaders and hear about how the city coordinates efforts to foster understanding and community relations.
The webinar also included short talks about international engagements which both partners had recently been involved in plus their ideas for a standards of behaviour resource for engaging in dialogue.
Baraza and Al Amana Centre ended the webinar by outlining their busy, respective schedules for the remainder of 2023.
---
'Richness and challenges of interreligious dialogue for multicultural societies' – The role of NGOs and UNESCO Member States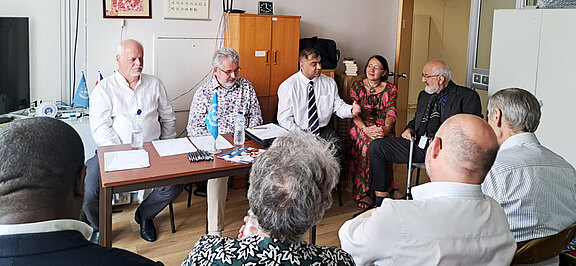 On Tuesday 4th July 2023, Baraza led a roundtable meeting with experienced NGO partners of UNESCO and other invited guests in Paris, France. The discussion enabled participants to identify their respective areas of work and to commit themselves to exploring areas of collaboration. Georg Popp, President of Baraza opened the meeting by highlighting the history and remit of Baraza. Riaz Ravat, Secretary General of Baraza then delivered a presentation about the UNITY life skills programme for children and young people which has been run in Germany, India and the UK.
NGOs in attendance at the meeting were New Humanity, Pax Christi International, International Council of Jewish Women, the International Fellowship for Reconciliation and the World Fellowship of Buddhists. Other individual guests were in attendance including Jan Figel – former European Commission Special Envoy for Freedom of Religion outside the European Union, Monsignor Guillaume Bruté de Rémur – Rector at Redemptoris Mater Seminary in Lebanon, Beirut and Prof. Dr Anke Weber - Head of Studies for Intercultural Business Psychology at the University of Applied Sciences, Hamm-Lippstadt in Germany.
The engagement heard that dialogue between people of different religious traditions and those of no religious convictions must bring out universal values for the good of all humanity. These values, which form the basis of many of our societies, must be passed on to younger generations.
---
Partners commit to deepening dialogue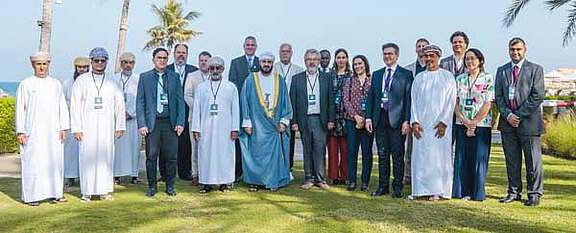 A strong call for deepening dialogue with action was made following an important global conference and workshop to coincide with the United Nation's International Day for Tolerance.
The Ministry of Endowments and Religious Affairs in the Sultanate of Oman in cooperation with Baraza committed themselves to advancing their partnership for peace. The events which were titled "Deepening Dialogue", ran on 14th and 15th November at the Bandar al Jissa Resort in Muscat, Oman.
The context of the symposium was Oman's flagship exhibition 'Tolerance, Understanding, Coexistence - Oman's Message of Islam' which toured the world for a decade from April 2010. The discussions which took place this time involved the construction of ideas and schemes to advance to the next stage in an increasingly polarised world. Through its network, Baraza gathered 15 global experts who contributed effectively by generating a series of education, cultural and community project proposals to consider.
► read more about the conference
---
---
"council" or "meeting place" in Swahili. A baraza can be an informal meeting or an official council. In spatial terms it is a place where people meet to chat, exchange ideas, and solve problems.
an independent, non-profit organization, founded by the same team which is responsible for the concept, realization and implementation of the international touring exhibition "Tolerance, Understanding, Coexistence."
an international platform to promote dialogue and understanding between people. In cooperation with international experts, we develop ideas and projects and look for potential sponsors.
---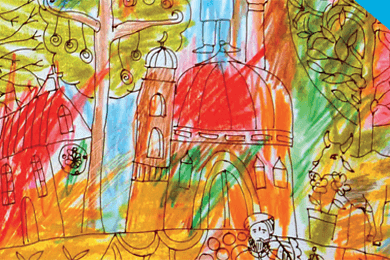 Have fun learning about the world's major religions with creative designs and simple challanges! For kids age 5+

Currently available in 6 editions (4 different languages each) and 16 languages:
English, French, German, Spanish, Italian, Russian, Bulgarian, Romanian, Macedonian, Bosnian, Albanian, Arabic, Chinese, Indonesian, Malay, Kiswahili

➤ Colouring Book for Kids - "World Religions"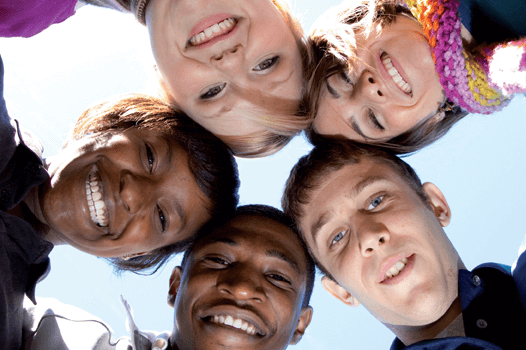 UNITY is an exciting and inspiring life skills programme for young people. UNITY will build self confidence and provide an encounter-based learning environment which will create citizens who are open-minded, skilled and resilient to face some of society's challenges. Topics covered include critical thinking, values and democracy. It is a scheme which will equip young people for life.

SABEL Schulen Munchen is hosting the first
►UNITY programme.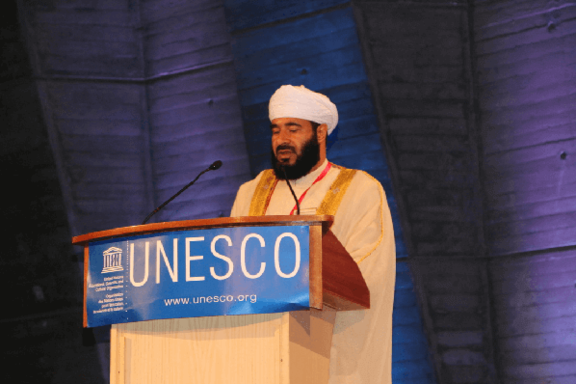 BARAZA is producing a series of case studies which showcase thoughts, actions, and initiatives undertaken by persons, institutions, municipalities or nations encouraging mutual understanding and acceptance. Each compendium contains essays, previously published articles, speeches, and descriptions of projects which present positive and effective examples with articles authored or contributed by BARAZA's Advisors and Associates.
► Download pdf: Towards United Values - Case Study Oman
---
Memberships and Partnerships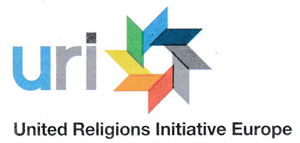 ---
We wish to promote peaceful thinking, tolerance in all areas of culture, religion and understanding among nations. The Baraza family of members, advisors and volunteers come from different countries and many walks of life.
BARAZA's international team provides a global platform for transcultural and interfaith dialogue.
We believe in ideals of Acceptance, Understanding, and Coexistence. Supported by our network of knowledgeable experts, we invest in education, we create real-world encounters, and we build thriving partnerships.
Through education and encounter-based projects, a future where actions are rooted in common human values.
---
Top