Landmark Project to Strenghten Links to Oman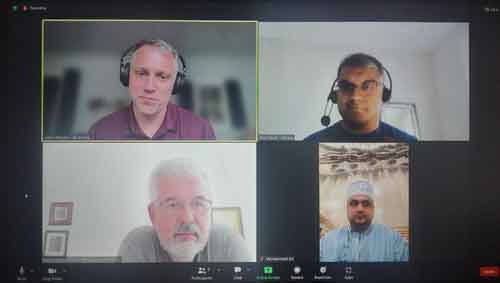 Baraza is delighted to announce that it has been successful in launching a new project designed to boost international organisational cooperation.
Thanks to the CCP (Cross Culture Programme) Synergy Fund which is administered by the Institut für Auslandsbeziehungen, Germany. Baraza has been awarded an external grant for a groundbreaking initiative titled 'Tandem for Tolerance'. The scheme pairs Baraza which is based in Munich, Germany with the Al Amana Centre in Muscat, Oman.
The Al Amana Centre is an ecumenical and interfaith non-governmental organisation (NGO) built upon the legacy of over 130 years of Christians working with their Muslim hosts and neighbours from different faiths represented in Oman. The centre provides safe spaces, diverse encounters and engaging approaches for people of faiths to build sustainable peace.
'Tandem for Tolerance' includes a series of online and face to face exchanges where they will share mutual experiences of running peacebuilding programmes, compare the diverse geographic contexts within which they operate and learn about their respective governance models. The project will explore the creation of a 'Tolerance Curriculum' to strengthen the cooperation in future years.
Georg Popp, President of Baraza formally signed the project agreement on 17th May 2023.
The first online exchange already took place on 22 June 2023.
Catherine Thiounn, Vice-President of Baraza said, "Our new collaboration with the Al Amana Centre will strengthen Baraza's footprint in the Sultanate of Oman where we have worked for a number of years to advance intercultural understanding. This pioneering alliance was signed a day after the UN supported 'International Day of Living Together in Peace' and that speaks volumes about this programme which we hope will contribute to advancing tolerance and acceptance at global level".
Revd Justin Meyers, Director of Al Amana Centre added, "Baraza and Al Amana have for many years been in similar orbits. Through this new project, Al Amana and Baraza hope to discover ways to complement each other's strengths and to develop programmes and curriculums to bring people together across cultures and religions to work for the common good".
In July 2023, Baraza and Al Amana Centre did a webinar whichr included discussions of draft plans for the respective exchange visits this autumn. It is expected that the German field trip will include the Dachau concentration camp as well as meeting local faith groups. The Oman expedition will include interactions with minority religious communities and their places of worship. A particular angle to the project will be to amplify reciprocal stories of minority communities living in Munich and Muscat.
The meeting enabled partners to assess ideas for producing some standards of behaviour for tolerance. In other words, what tips and techniques rooted in respect and the principle of 'live and let live' could be adopted when engaging in disputed dialogue.
Over the coming weeks, Baraza and Al Amana Centre will continue to collaborate on producing a shared resource which places human dignity at its core as well as to examine further steps to deepen their connections.
Top