Baraza at the G20 Interfaith Forum in Bologna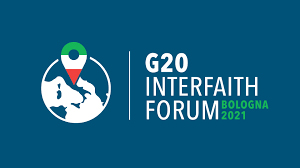 It was a great pleasure for Georg Popp (President) and Riaz Ravat (Secretary General) to attend the G20 Interfaith Forum which began on 12th September 2021 in Bologna, Italy. The conference included political, religious and NGO (non-governmental organisation) personnel from across the globe and allowed Baraza to showcase its work at international level.
The highlights for Baraza included:
Each one of the nearly 400 delegates received a copy of our 'Colouring Book for Kids – World Religions' as well as our Baraza brochure.
Taking part in a dialogue session with a group of young adults attending a related programme in Bologna.
Touching base with some of our Advisors and Associates in person including His Excellency Mohammed Al-Mamari – Undersecretary of the Ministry of Awqaf and Religious Affairs in the Sultanate of Oman.
The opportunity to converse with some key leaders in global interfaith including His Eminence Archbishop Angaelos of the Coptic Orthodox Church, Prof. Azza Karam from Religions for Peace and Sheikh Khaled Bentounes who is the Master of the Alawiya Sufi Tariqa and initiator of the UN sponsored International Day of Living Together in Peace which falls on 16th May every year. We also met staff from the Holy See involved in interfaith dialogue.
An exploration of some new project ideas for the coming period.
We thank Prof. Alberto Melloni and his team at the Fondazione per le scienze religiose (FSCIRE) for organising the G20 Interfaith Forum 2021
Top